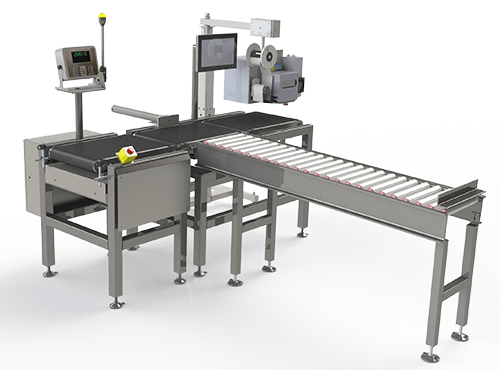 Going beyond the basic principle of inspecting 100% of the product moving across the production line, our checkweigher platforms can be equipped for in-motion print & apply, weigh price labeling, bar code scanning, and direct print applications.
Industrial automation can be found throughout all areas within a production line. Usually, weigh price labeling or label print and apply is located toward the often overlooked but critically important end of production line operations. Whether it be packages of chicken, cases of consumer goods, motor oil, electronics or vegetables, printing applications are required. Typically, the weigh price labeling and label print and apply applications require input and data from an in-motion checkweigher to populate the labels with the correct information, weight, lot number, etc.
Our AP Dataweigh in-motion labeling and barcode systems are seamlessly integrated with manufacturing lines. Our machines also collect and send data bi-directionally to the Rockwell Cloud for aggregating, statistical reporting, and more when used in conjunction with the Rockwell Cloud Platform. This turns a traditional print and apply or weigh price labeling machine into a critical data collection and reporting device at the end of the manufacturing line, where data like this once sourced can hugely contribute to running a lean operation and controlling line OOE.