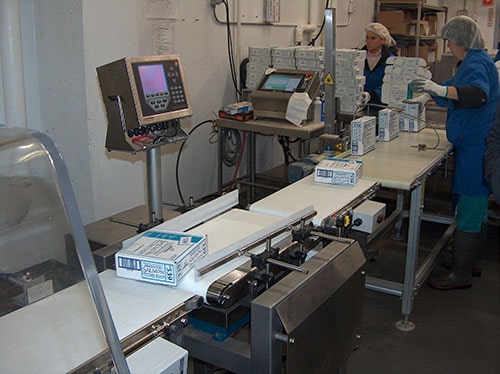 The problem:
A global consumer products company could not guarantee its boxes of re-sealable plastic bags had the proper number of bags in them. To ensure at least 20 bags per box the company was setting its bundler to pack 24 bags per box.
The solution:
An AP Dataweigh, Inc. SR1 series checkweigher was installed after the bundler. The bundler was reset to pack 20 bags per box. Any box that did not have 20 bags was rejected by the scale. Rejects were then reworked offline.
The payback:
The company had 100% assurance that each box contained exactly 20 re-sealable bags and saw an immediate 20% reduction in material usage. An additional benefit resulted when the scale revealed that not only were too many bags being put into a box, but that the weight of each bag was consistently over specification. By using the data provided by their SR1, they were able to reset the raw product filler properly, and an unexpected savings of 10% on material was realized! Rework offline was then dramatically reduced too, saving labor costs!
Investment – ~$45,000
Savings – $200,000/year
Payback – three months
After operating the scale on a line for three months, the company ordered scales to retrofit its remaining 6 lines.
Are you optimizing your checkweigher, or is it simply a scale? You need data that can ensure specification compliance and reduce waste that eats into your bottom line. Many clients have used the data analysis our units provide to improve their net results. Enter the competition….the AP Dataweigh!
Too much in the box! Plastic baggies…Bundler vs. Checkweigher……Too much in box & too much weight PER BAG….Eliminate product give-away!….Reduce raw material consumption!…Reduce labor costs!