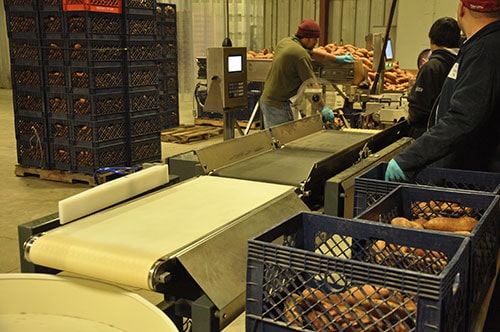 The problem:
Because of retailer dock acceptance criteria, potato packers had to ensure that 100% of all 5 pound bags of potatoes had a minimum of 5 pounds in the bag. Any bag found less than 5 pounds could result in a tractor trailer load of potatoes being rejected at the customer's dock. This resulted in the load being sold as waste. Packers set their equipment to fill bags to between 5.5 pounds and 6 pounds to ensure compliance.
The solution:
An AP Dataweigh, Inc. CW series checkweigher was designed to weigh 100% of the bags after the packer and before being loaded onto the truck. The packing machine was set to pack between 5.05 pounds and 5.2 pounds. Underweight bags were rejected by the scale and repacked by hand and then resent across the scale.
The payback:
The packing shed had 100% assurance that its load met its customer's specifications and would not be rejected. Over packing was reduced 15%.
The payback:
Investment – ~$20,000
Savings ~$200,000/year
Payback – one month
Don't give your product away! Let AP Dataweigh insure your customer's specifications are met and that you get paid for everything you ship. Achieve 100% customer satisfaction while increasing your bottom line… the AP Dataweigh!
Too much in the bag!….. Over packing your produce to insure delivery acceptance?…..Deliveries denied due to underweight shipments?….. Checkweigher could pay for itself in one load!….Eliminate give-away of your produce!